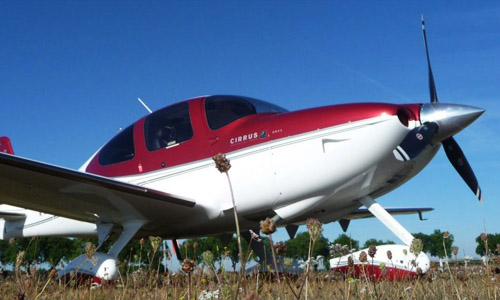 Cirrus SR 22

The Cirrus SR22, best seller of the 2000s.
Courchevel & Megeve rating, IFR training
Safe, fast and comfortable, the Cirrus SR22 is designed for travelling, IFR flights & training.
First full composite and full EFIS airplane, it's the aircraft to fly for fast flight in all conditions. The Lycoming 6-cylinders provide high performances. Cruise speed of 180 Ktand 220 Kt for the turbocharger version. Adapted to altiport Megève and Courchevel, it will seduce pilots for family weekends.
The Cirrus SR22 is also very suitable for IFR flight, which is what it was design for.
The first aircraft of its generation to integrate Glass cockpit, first with AVIDYNE and then quickly with GARMIN, it established itself on the range of fast four-seater entirely in composite.
It is also the first in the aviation's history to have his own parachute, allowing it to reach the ground safely for its occupants.
Our training center had flown more than 1500 hours and 1000 landings at Courchevel LFLJ with the Cirrus SR22 family.
In our fleet, we provide to you a Cirrus SR22 G3 Perspective X, the third generation of SR22. It is equipped with G1000 PerspectiveX.
---

Cirrus SR22 G3 specification
General characteristics
Crew: one
Capacity: four passengers
Length: 26 ft 0 in (7.92 m)
Wingspan:38 ft 4 in (11.68 m)
Height:8 ft 11 in (2.72 m)
Airfoil: Roncz
Gross weight: 1,540 kg
Fuel capacity:92 US gallons (348 liters)
Powerplant: 1 × Continental IO-550-N Six cylinder horizontally opposed aircraft engine, 310 hp (230 kW)
Propellers: 3 blades
Performance
Cruise speed:183 kt (211 mph; 339 km/h)
Stall speed: 60 kt (69 mph; 111 km/h) flaps down
Range: 1,049 nm (1,207 mi; 1,943 km) with reserves at 65% power
Service ceiling: 17,500 ft (5,300 m)
Rate of climb: 1,270 ft/min (6.5 m/s)