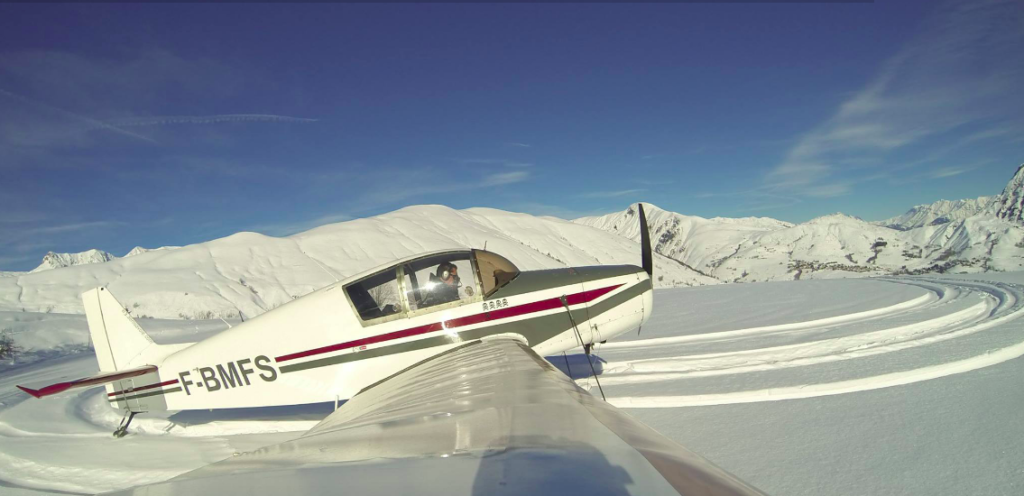 Jodel D140 Mousquetaire
Mountain flying and glacier landing
Within its ATO, Alpine airlines has 2 Jodel D140 Musketeer, for training pilots in mountain flying.
The Jodel D140 Mousquetaire was designed in the late 50's by the French engineers Joly and Delemontez (Jo & Del).
The Mousquetaire was originally designed as a travel plane, fast and capable of carrying its own weight (empty mass 600 kg, maximum takeoff weight 1200 kg).
Strong, reliable and comfortable, it quickly seduced flying clubs and other private pilots.
Several versions, ranging from A to E, contributed to this "success story" of French general aviation. Used for trips, then for aerotowing, especially in the air force, it quickly seduced the mountaineers by its low speed performance, its robustness and its ease of flying.
The Jodel D140 Mousquetaire, that we use today
Seducing mountain pilots, the Mousquetaire opened a new field of flight: mountains landings, especially on snow. The pilots then equipped the Jodel D140 with skis and removed all unnecessarily items to keep the aircraft as light as possible. It was converted for a new job.
Since then, it was replaced. The Piper PA18 tried, but never seduced pilots as much as his French competitor. Nowadays the D140 is pretty rare and unique, but it will remain the best reference for mountain flying, marking over 50 years of flights and glacier landings.
Our mountain flight instructor, André Claude, called it the "St-Bernard of the air" refering to the first mountain rescue carried-out with the Jodel D140 and its great maneuverability.
---
Jodel D140 Mousquetaire Specifications
General
Pilot: 1
Max passenger capacity: 4
Length: 7.92 m (26 ft 0 in)
Wingspan: 10.27 m (33 ft 8 in)
Height: 2.13 m (7 ft 0 in)
Wing area: 18.5 m2 (199 sq ft)
Empty weight: 660 kg (1.455 lbs)
Maximum takeoff and landing mass: 1.200 kg (2.646 lbs)
Engine: 1 – Lycoming O-360 piston, 130 kW (180 hp)
Construction: Wood and fabric
First flight: 1958
Performance
Max speed: 290 km/h
Cruise speed: 210 km/h
Stall speed: 82 km/h
Take-off roll distance: 270m
Landing roll distance: 120m
Autonomy: 6h
Tanks: 90 liters + 120 liters
Variants
D. 140 Mousquetaire – built: 1
D. 140B Mousquetaire II – built: 56
D. 140C Mousquetaire III – built: 70
D. 140E Mousquetaire IV – built: 43
D. 140R Abeille – built: 28